Rocky Mountain Carvers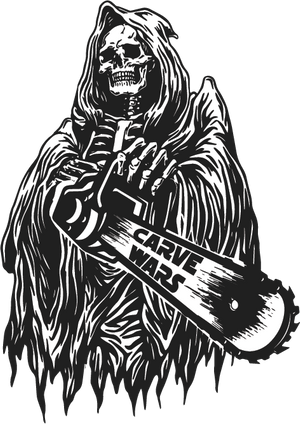 Founded in 2012 by Joe Wenal, Rocky Mountain Carvers is the foundation of Carve Wars. Joe has been chainsaw carving full-time for more than 10 years, and Rocky Mountain Carvers is his solo operation. He's proud to offer on-site and off-site carvings for clients across the nation. His carvings feature incredible attention to detail and top-notch craftsmanship. He's honored to be trusted by discerning clients and would be glad to earn your trust, too.
Welcome to Rocky Mountain Carvers
Chainsaw carving is an incredible way to transform large logs into lasting masterpieces. Joe of Rocky Mountain Carvers offers customizable services. He can transform old trees into art installations or carve free-standing logs that can be displayed anywhere.
On-Site — A tree stump that's still rooted in your property can be a conundrum. Do you pay for it to be ground down or dug out? With Rocky Mountain Carvers, the tree stump in your yard can become an artistic focal point. Elevate your property thanks to Joe's nuanced chainsaw carving service! Commission your carving today.

Off-Site — Commission a custom wood carving, and Joe will make your vision a reality. You'll enjoy a high-quality carving that's sure to add something special to your home or business.
A great wood carving is timeless. With Rocky Mountain Carvers, you get to enjoy wood carving at its finest. Learn more about the possibilities and commission a piece with Joe today.
Rocky Mountain Carvers
Questions? Contact Us Today!