Carve Wars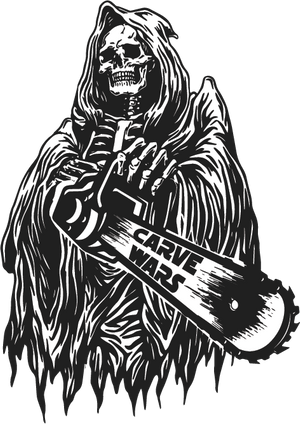 Welcome to an event unlike any other. Carve Wars pits the world's best chainsaw artists against one another in a high-octane spectacle that's sure to become one of your favorite memories. The incredible pieces produced in the competition are sold in a live auction, giving you a chance to take a masterpiece home for yourself. Carve Wars is a traveling chainsaw art competition that provides high octane entertainment along with truly one of a kind art which is available in a live auction. Through this art we are able to help local charities by donating a portion of our proceeds. We also do everything else, we cover the setup, takedown, insurance, the entire live auction and even obtaining the logs for carving. All you have to do is give us the space and schedule a time for our event! If your interested in booking a competition or demonstration just fill out the form and we contact you with options to fit your event needs.
Are You Ready for Carve Wars?
Carve Wars is a wild ride that lasts two to three days. Featuring six to eight award-winning carvers, we generate incredible art that's sold in live auctions. Everything we carve gets sold, and we donate a portion of our earnings to a local charity. We're the only event of our kind, offering multiple facets and customizability. Enjoy our:
Competition

Demonstrations

On-Site Carving

Custom Commissions
We absolutely love what we do, and it shows. When you bring us into your community, you can depend on a memorable spectacle that produces top-notch art. When we're in town, we not only offer a gathering place for discerning art connoisseurs and adrenaline junkies; we also offer custom and on-site carving services. Contact us today to learn more.
Carve Wars
Questions? Contact Us Today!